Having the right mix of business knowledge, technical knowledge and creativity is imperative in delivering world-class integrated technology solutions.

Leading Our Business Team
Paul Schindler, CEO & Founder
Paul started the business in 1993 and brings over 20 years of experience developing custom solutions with a focus in human resource information systems, business solutions and online strategies for Fortune 500 companies. His experience in business management enables him to apply strategic insight and direction for full-scale deployments both for national and international companies.
Prior to founding Schindler Technology, Paul was a systems consultant at Baxter Healthcare Corporation where he developed computer software for hospitals, and their internal Human Resource department. Before Baxter, Paul worked for Sibson & Company, a human resource consulting firm developing computer tools in support of projects involving salary administration, job evaluation, and incentive plan modeling.
Paul has a BS from Skidmore College, and an MBA from Clarkson University. With over 20 years of managing and creating technology solutions, Paul and his team bring a specialized skill which differentiates us from many other solution providers.

Leading Our Technical Team
Mark Rosenstein, Chief Programming Engineer & System Administrator
Mark has been with Schindler Technology for over 17 years. Mark started network programming in 1981, before most people had heard of the Internet. At Schindler Technology, Mark leads the web programming team as well as building and maintaining a variety of interactive sites, email communication systems and streaming media. His extensive knowledge base includes the use of AJAX, Perl, PHP, Apache, JavaScript, Java, HTML, SQL, and Linux based web systems.
Prior to working at Schindler Technology he was owner and founder of Active Window Productions, Inc. (currently now part of Schindler Technology). He also worked on the first commercial Internet router during his employment at Proteon and at MIT's Project Athena he worked on Unix systems development and network applications.
Mark holds a Bachelor of Science degree from the Massachusetts Institute of Technology in computer science.

Leading Our Creativity Team
John Nakazawa, Chief Designer & User Interface/User Experience Engineer
John has been with Schindler Technology for over 15 years. With his architectural design and artistic background, he develops innovative ways to navigate and display complex information and analytics. Using his design methodology, data is transformed into interfaces that are intuitive and user-friendly leading to better and faster decision making.
John has held teaching positions at Harvard University, Massachusetts College of Art, The School of the Museum of Fine Arts, and Philips Academy at Andover. His artwork has been displayed at the Soho Center for Visual Arts in New York City, and in the Permanent collection at the Norton Gallery Museum in West Palm Beach Florida. Former technology positions include Partner and Chief Creative Officer at Visual I-O, and Lecturer (Incorporating Art and Architecture Design Elements into Practical Interfaces and Visualizations).
John earned his BA and Masters from Tufts University / School of the Museum of Fine Arts and a Masters in architecture from Harvard University's Graduate School of Design.
Top Reasons you can count on us to Deliver:

We are fast on our feet. Using our methodologies in rapid iterative prototyping and agile development processes along with our business acumen our teams are able to implement solutions quickly.

Quality Assurance is paramount to customer satisfaction and each solution is rigorously tested.

Our satisfied ongoing relationships with clients.

Continuous communication with our clients. The more we know about your needs the faster we can deliver on them.
Strategic Decision Making
Our systems are designed to target strategic decision-making business objectives with critical communication flows within the organization to enable effective business management
Using visual representation to convey complex information intuitively
Schindler Technology uses visual techniques of art and architecture to transform data, typically conveyed through spreadsheets, into organized, intuitive and interactive information displays.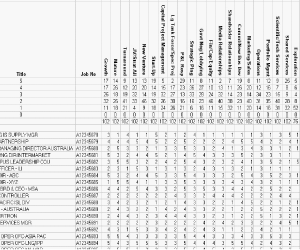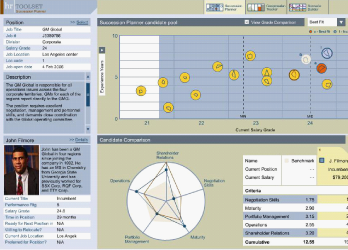 Our Succession Planning Tool transforms typical spreadsheets into data-driven, real-time interactive displays making for insightful decision making.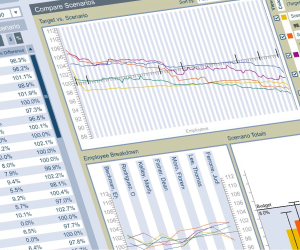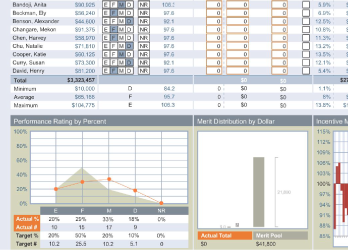 Our Scenario Planning tool and our Compensation Planning tool are part of the same data-driven, real-time interactive HR tool set as our Succession Planning tool.